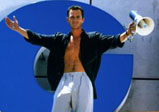 Enrique Suarez (Nestor Carbonell), a self-absorbed Latino sitcom actor, is having a hard time performing in bed with his wife Claire who doesn't know yet that Enrique's show has been cancelled.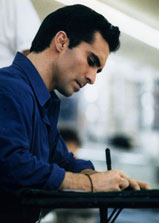 Although Enrique feels disheartened and emasculated, he is still determined to cash in on his newfound fame. He deserts Claire for his first celebrity appearance at a Houston K-Mart.

On his flight, Enrique encounters a soap opera star Mark (Luke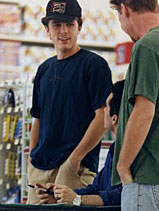 Perry). This seasoned veteran of the celebrity appearance circuit prepares Enrique for what he is about to experience: "Three thousand frantic teenage girls screaming his name, clawing at him and ripping his shirt off." Exhilarated, Enrique drafts a speech for his appearance with the unexpected help of his Houston limo driver Khourosh (Michael Lerner), a family man in his mid-50's with a cryptic past.
The K-Mart appearance proves to be memorable indeed in ways Enrique never anticipated. And so begins the journey of this fledgling actor who, with the help of Khourosh, revisits the notion of self-discovery in "Attention Shoppers".