A story of loyalty, duty, and the limits of friendship.
Honest cop Billy Benson (William Baldwin) enters the dark world of murder and corruption when his ex-partner (Adam Baldwin) is killed by small-time mobster Sally Fish (Jon Seda). Karen Winterman (Elizabeth Mitchell) is a brilliant, young psychotherapist in a world where insanity is the best strategy. Karen is good at analyzing others, but doesn't have a clue about herself. Her love for a loser almost kills her. Edmund (Byron Mins), the son of a famous jazz musician who dies broke and forgotten, is a loner who plays LPs in a dark room and waits for the end. But in the meantime, he is a coldly efficient killer.

Benson's partner becomes corrupt and starts to work for Sally Fish's drug operation. Karen Winterman begins an affair with a young hustler patient who is working for Sally Fish. Sally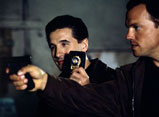 decides to "clean house" and hires Edmund to kill Benson's partner. When Sally and his girlfriend kill Karen's lover, Karen is an inadvertent witness to the murder and the new target. Sally hires Edmund to kill Karen. Benson decides to seek revenge and restitution outside the law for the murder of his partner. He keeps the Mafia and the cops at bay. But soon he finds he has to protect Karen. An assortment of cops, tough guys, and killers come swirling into the mix. It's a lethal merry-go-round turning faster and faster. It's a game with one simple rule: the first one to die loses.